TMJ's are typically constructed with conventional clear acrylic and two buccal wire clasps. Usually placed on the first molars. (#19 & #30) With the advent of space age plastics we can chose from a variety of monomer free plastics that have different degrees of flexibility. Flexite MP, our semi-flexible multipolymer acrylic, is presently the choice of laboratories (worldwide) for bruxism and TMJs. A technique omitting the wire buccal arms is offered as an alternative procedure.
How to Create Retention for TMJs and Bruxism Appliances without Adding Metal Clasps.
Procedure: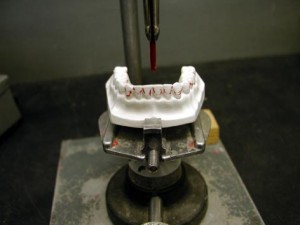 Survey entire case with a slight rise in the anteriors so bruxism appliance can overlap anteriors slightly.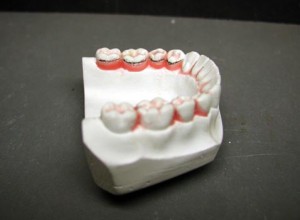 Blockout entire lingual and buccal interproximals in posterior quadrants. Include slight wax in the interproximals and occlusal surfaces. The interproximal walls in the posterior quadrants are parallel and should not be undercutted.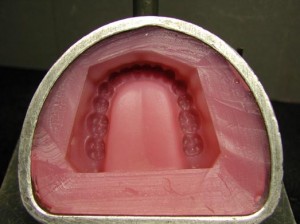 Duplicate Model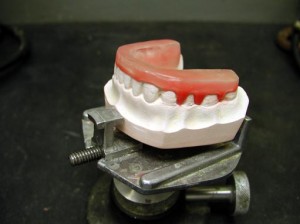 Waxup as indicated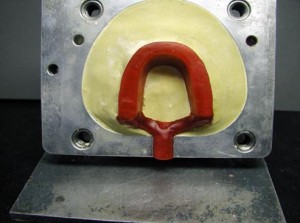 Invest in flask and sprue with two individual sprues into distal occlusals.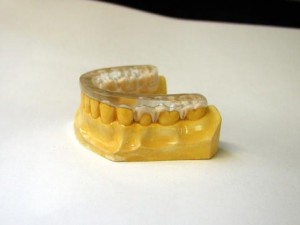 Finished case
Flexite MP is a semi flexible thermoplastic and easily adjusted. Additional retention is created with hot air gun by tucking the interproximal fingers inward.
Advantages: No metal wires Monomer free Easily added to Greater comfort Superior clarity