Flexite Flexible Partials and Dentures are made with the very best medical grade thermoplastics. With Flexite you have many different plastics to choose from. The Flexite Company prides itself with the finest customer support in the dental industry.
When you call Flexite, if we are busy and your get a recording please leave a message and we will return your call as soon as possible.
All our customers are very important. A Flexite employee will return your call the same day, take your order and answer
all your questions.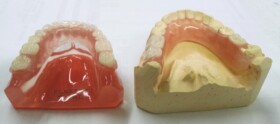 E-mails are checked throughout the business day and night. Faxes are always answered promptly. Our customers are very important to us. We want everyone to be happy customers. 59 years serving the dental industry.
AIM DENTAL LABORATORY IN BROOKLYN, NEW YORK IS ILLEGALLY ADVERTISING FLEXITE ON THEIR WEBSITE.  AIM DENTAL HAS NOT PURCHASED FLEXITE IN OVER 1 YEAR BUT CONTINUES TO ADVERTISE FLEXITE EVEN AFTER A LEGAL LETTER WAS SENT TO THEM FROM OUR ATTORNEY.  THEIR WEBSITE SAYS FLEXITE IS ACRYLIC WHEN IN FACT THE FLEXITE THEY USED IN THE PAST WAS A NYLON THERMOPLASTIC, NOT ACRYLIC.   PLEASE MAKE NOTE.                                                                                                                             
PLEASE NOTE: ROSE DENTAL IN ATLANTA, GEORGIA IS NOT AFFILIATED WITH THE FLEXITE COMPANY.   ANY FLEXITE PURCHASED FROM ROSE DENTAL IN ATLANTA IS NOT GENUINE FLEXITE THERMOPLASTIC.  WE DID NOT AUTHORIZE ROSE DENTAL TO ADVERTISE FLEXITE.  PLEASE CALL FLEXITE FOR THE NAME OF A GENUINE FLEXITE PROCESSING LAB AND DENTIST IN YOUR AREA.
PLEASE NOTE: MR. ED ZIGO OF ZIGO TECHNOLOGIES IS NO LONGER AFFILIATED WITH THE FLEXITE COMPANY.  MR. ZIGO HAS NOT PURCHASED ANY FLEXITE THERMOPLASTIC IN OVER 2 YEARS.
NEW FLEXITE FAX NUMBER: (516) 499-8530