Flexite Flexible Partials and Dentures are made with the very best medical grade thermoplastics. With Flexite you have many different plastics to choose from. The Flexite Company prides itself with the finest customer support in the dental industry.
During normal business hours, when you call Flexite, you will always have a person to talk to. No button pushing or voicemail. A Flexite employee will promptly answer your call and forward you to the correct department.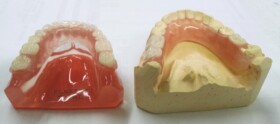 E-mails are checked throughout the business day and night. Faxes are always answered promptly. Our customers are very important to us. We want everyone to be happy customers. 56 years serving the dental industry.