Now you can offer your dentists a unique way of improving esthetics with Acetal tooth colored frames and clasps. Acetal is excellent for tooth colored frames and clasps. Acetal is exceptionally durable and is easy to keep clean. Acetal tooth shade plastic is available in many different size cartridges to fit most thermo injection systems. The following steps illustrate the fabrication of a tooth colored frame.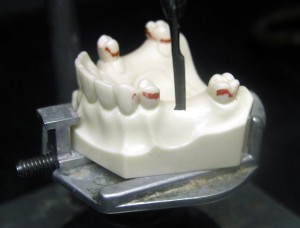 Survey teeth in red pencil if possible.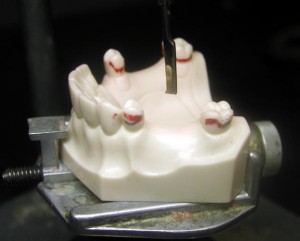 Pencil in design of clasp after using undercut gauge to determine where the flexible third of the clasp goes.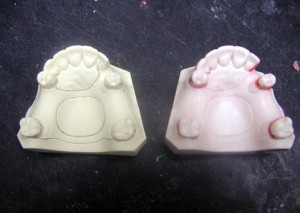 Block out undercuts and duplicate master model.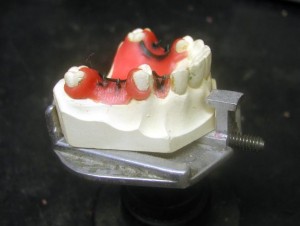 Copy design on duplicate model and waxup frame.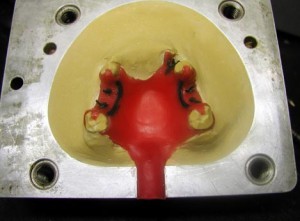 Invest waxup 1/2 inch from entry hole and make a single sprue. We will cut out center after the case is injected.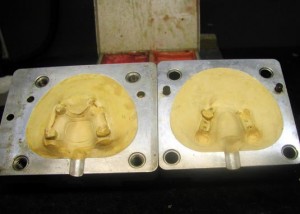 Invest in all stone. Inject case, allow to bench cool for seven minutes and deflask.
View of deflasked acetal frame.
Cut out center of palate with acrylic trimmer.
Cut out completed and finished on model.
Acetal – Acrylic Combination.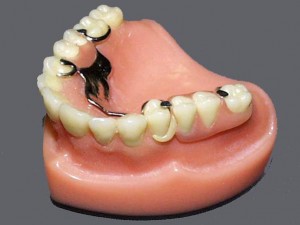 Metal – Acetal – Flexite Combination.